Pocket Bikes and Mini Choppers and Mini Choppers

Jump to your choice by clicking on your scooter link below...
70cc Four Stroke
(also available in 49cc version)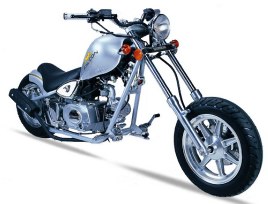 Engine: 72cc Four Stroke
Tires: 13 inch
Transmission system: 4 speed automatic clutch, Chain drive
Maximum Speed: 35-45 mph (depends on rider weight, road & weather)
Range: 45-50 miles
Scooter Weight: 140 lbs.
Weight capacity: 300+ pounds
Start: Electric and kick start
Gas Tank: 1.8 gallons
Body Material: Steel & plastic
Features: Front hydraulic disc and rear foot drum brake, 4 speed transmission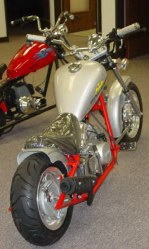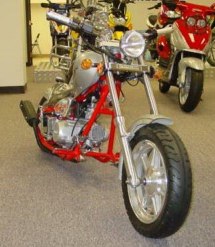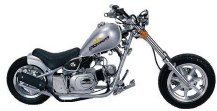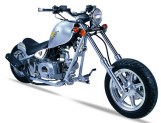 Colors Available: Silver, Blue or Chrome
West Coast Super Chopper 72cc Four Stroke $679 Includes Shipping!
Buy It Now!
49cc Version of the West Coast Super Chopper 49cc Four Stroke $659 Includes Shipping!
Buy It Now!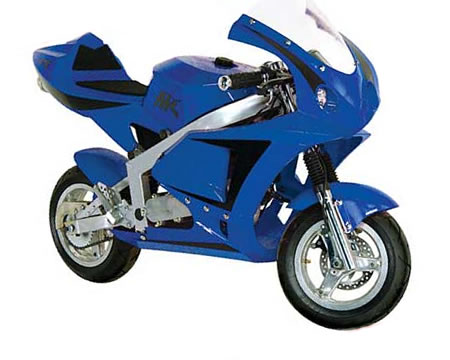 The X2 Super Ninja Pocket Bike features a higher performance 49cc 2-cycle engine with CVT (Constant Variable high-performance Transmission), the X1 hits top speeds up to 40 mph, over 20% faster than other 49cc bikes.
The X2 incorporates a full fairing, race-inspired design with dual, hand-activated vented disc brakes, large pneumatic street tires wrapped around polished aluminum rims, and full suspension design with front suspension and rear mono-shock for comfort and control under extreme riding conditions and will comfortably seat adults up to 6'2" tall.
Specs:
- 49cc 2 Stroke Air Cooled Engine with CVT 2 Gear Transmission (Mix Fuel 25:1)
- Electric and Pull Start (with key ignition)
- Front and Rear Disc Brakes
- Dual Headlights, Brakelight, Blinkers, and Horn
- .5 Gallon Fuel Tank (Distance: 45mi average)
- Front Tire = 13" Racing Slick
- Rear Tire = 14" Racing Slick
- Front and Rear Shocks
- Maximum Load: up to 300lbs
- Battery: 12V/7AH
- Dimensions: Length 50", Width 15", Wheel Base 42", Seat Height 24", Overall Height 32"
Complete with decal kit, charger, tool kit and mixing cannister.
Available in BLACK, BLUE, SILVER, RED, YELLOW




IN STOCK AND SHIP UPON PAYMENT
Warranteed for 30 days against manufacturing defects, parts and HOP UP OPTIONS readily available.
Beware of other sellers offering inferior products...
You will not be dissapointed by smaller. less powerfull shoddily made 'KNOCK OFFS!'
The quality of this Super Ninja is so good that we sell these in our showrooms for $675 ... OR MORE!
Shipping:
Delivery is $99 to most continental US areas. Shipped by preferred ground carriers, fully insured.
Super Ninja Pocket Rocket $479 Includes Shipping!
Buy It Now!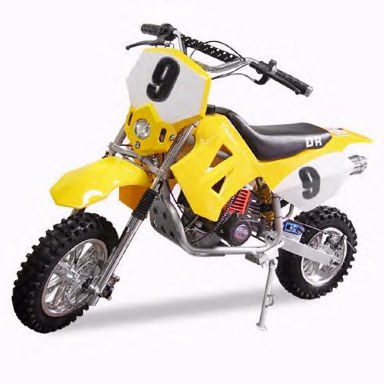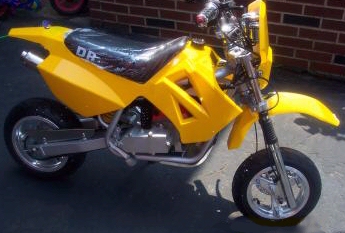 Pocket Dirt Bike Specifications
Engine 49cc 2-Stroke / 4.5hp@7000rpm
Max Speed 20 mph
Fuel Gas & 2 cycle oil 25:1
Fuel Tank Capacity 1.5 Liter
Starting Method Electric & Manual Pull Start
Drive Method Chain
Transmission, Automatic
Max Load, 175 lb.
Brake System Disk (Front & Rear)
Dimensions L 54 " x H 34"
Cooling System Air Cooled
Tire Type (F) 90/65-8 (R) 120/50-9
Horse Power 4.5 hp@7000rpm
Exhaust pipe, Single tail pipe muffler
Ignition, CDI
Suspension Front & Rear
Body, ABS Plastic
Weight, 60 Lb..
Assembly, 100 % assembled
Warranty, 30 day warranty.
Colors, Black, Blue, Red, Yellow and Silver
Pocket Dirt Bike $479 Includes Shipping!
Buy It Now!
If you have a question... call us at 631-375-4046
Copyright 2005, Scooda Moto, Pique Motorsport, PMI Values, Scooter Motique, All rights reserved.
All other product and company names are the properties of their respective owners